The reload command is one of the most powerful and – by extension – dangerous commands available in Cisco IOS.  This command will reboot your Cisco device.  It should be used with caution (and a change control).
While most of us have rebooted Cisco devices with the reload command, you may not be aware of some of the optional reload command arguments.  Options such as reload in, reload at, and reload reason can extend the power of the reload command and come in handy.

Even if you choose not to use the reload options, you should be aware of one very important reload command: reload cancel. This command allows you to cancel a scheduled reload…and could be the difference between saving the day or looking for a new job. :-)
Cool Cisco IOS Commands - reload Options - Part 1
Last Updated (Monday, 28 March 2011 15:33)
Even though we still have more lessons left to fully cover the major aspects of Frame Relay and its configuration, I wanted to include a couple of short, basic lessons covering Frame Relay configuration to break up the block of theory lectures and to get a look at some of the steps required to configure Frame Relay. The second of these covers a simple hub and spoke  Frame Relay configuration using physical serial interfaces.
Note: Sound quality is a bit spotty on these recordings.  I was "between microphones" and there are a lot of pops.
Frame Relay - Basic Configurations Hub and Spoke - Part 1
Last Updated (Tuesday, 07 September 2010 17:42)
The test crash command is an undocumented Cisco IOS command that will simulate a router crash. If your device supports the command, issuing it will give you access to a menu that will allow you to choose from a number of simulated router crash scenarios. Note that executing any of these scenarios will crash your router and this command should not be performed on production equipment in most circumstances. Once the router finishes reloading from the simulated crash, IOS will create a crashinfo file which you can reference (use the more command to read it).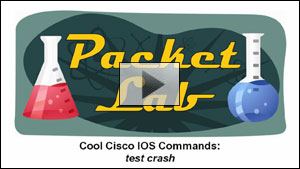 Cool Cisco IOS Commands - test crash
---
Command and Configuration References
The test crash command is undocumented
---
Search Terms: test crash, undocumented Cisco IOS commands
Last Updated (Monday, 28 March 2011 15:32)