Looking for a terminal emulator that supports tabs...and runs on Windows?  Don't want to shell out $100 for SecureCRT?  In this video I will take a look at mRemote and see if it's worthy of consideration for the Windows-based Network Engineer who desires hot tab action...but doesn't want to drop a hundo on SecureCRT.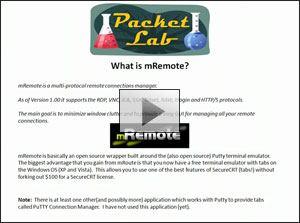 mRoute Terminal Emulator - Part 1 of 3
Last Updated (Monday, 15 March 2010 19:38)
Penultimate Hop Popping (PHP) is a function performed by certain routers in an MPLS enabled network. It refers to the process whereby the outermost label of an MPLS tagged packet is removed by a Label Switch Router (LSR) before the packet is passed to an adjacent Label Edge Router (LER).  In this lesson we will cover the PHP from the ground up and show how it is implemented in Cisco IOS.
Note: These videos are not available in 720p HD (480p is available).
Also, I tend to say 'pentultimate' instead of 'penultimate'.  The later is correct.  I apologize.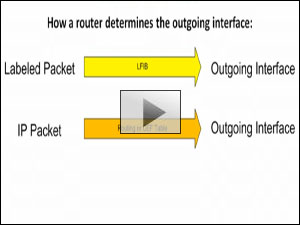 MPLS Basics PHP - Part 1
Last Updated (Wednesday, 31 March 2010 17:48)