There are a handful of commands that I user every day and show interfaces status is one of them. By adding the optional status argument to the show interfaces command, you get a concise look at many of the most important switch port characteristics.
With this single command IOS gives you:
Port ID
Port description
Port status (connected, notconnect, disabled, err-disabled)
Port VLAN (VLAN id, trunk, routed, private VLANs)
Port duplex (full, half, auto, a-full, a-half)
Port speed (depends on port capabilities, auto negotiated speed preceded by a- )
Port media type (varies by port capabilities, unsupported)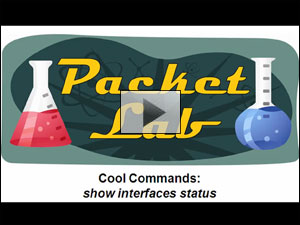 Cool Cisco IOS Commands - show interfaces status
---
Command and Configuration References
---
Search Terms: show interfaces status, auto-negotiation, duplex mismatch, switch troubleshooting
Last Updated (Monday, 28 March 2011 15:32)
show interfaces counters errors is a great Cisco switch command which gives you a detailed look at the different types of errors on a switch port. I use this command extensively when troubleshooting switching issues on Cisco gear. It really comes in handy when troubleshooting duplex mismatches, especially if you do not have access to the device connected to your switch port.
Note: Audio is a bit low on this recording.  Sorry about that.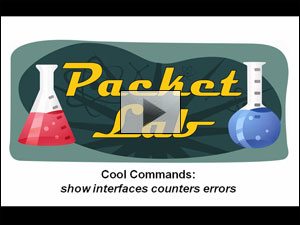 Cool Cisco IOS Commands - show interfaces counters errors
---
Command and Configuration References
Understanding Data Link Errors (Cisco Documentation)
---
Slides (PDF)
Search Terms: show interface counters errors, switch troubleshooting, duplex mismatch
Last Updated (Monday, 28 June 2010 20:00)
Syslog is a standard for forwarding log messages in an Internet Protocol (IP) computer network. It allows separation of the software that generates log messages from the system that stores the messages.

Syslog is a client/server protocol: a logging application transmits a maximum 1024-byte text message to the syslog receiver.  The receiver is commonly called syslogd, syslog daemon or syslog server. Syslog messages may be sent via the User Datagram Protocol (UDP) or the Transmission Control Protocol (TCP). The data is sent in cleartext; although not part of the syslog protocol itself, an SSL wrapper may be used to provide for a layer of encryption through SSL/TLS. Syslog uses the port number 514.

Syslog is typically used for computer system management and security  auditing. While it has a number of shortcomings, syslog is supported by a wide variety of devices and receivers across multiple platforms. Because of this, syslog can be used to integrate log data from many different types of systems into a central repository.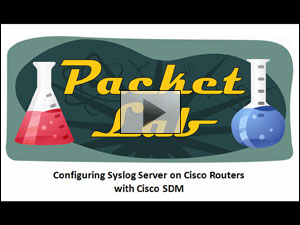 Configuring Syslog Server On Cisco Routers With SDM - Part 1
Last Updated (Wednesday, 05 May 2010 17:35)