Troubleshooting Toolbox: Clearing Interface Counters
Written by Packet Lab | Saturday, 04 June 2011 02:42 Last Updated on Saturday, 04 June 2011 19:56 by Packet Lab
Although it may not seem to be an important tool in our troubleshooting toolbox, the ability to clear interface counters is very important. This lesson will introduce you to the clear counters [interface] command as well as show you when to use this command instead of the more comprehensive clear counters command.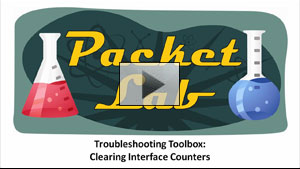 Troubleshooting Toolbox: Clearing Interface Counters
---
The Quick and Dirty
Cisco devices maintain important counters (interface and otherwise) and these counters are essential for troubleshooting. Most of these counters are cumulative. That means that when you look at the counter you will be seeing information collected from the time that the counter was last reset – in many cases, this timeframe is going to be too vast to assist in your current troubleshooting. You may want to reset the counter to observe data going forward and clear out the historical data. In order to do that you need to use the clear counters privileged EXEC command.

If you use the clear counters command without specifying which counter(s) you wish to clear, it will clear ALL (well, most) counters on your device. Think of clear counters as actually meaning clear counters all. Many times using the clear counters command is akin to dropping an atomic bomb on a mosquito. Sure you reset the counter(s) that you are monitoring, but you may end up discarding information that others are using for their own troubleshooting or even historical information that you will need to consult during your current troubleshooting. This is where specifying the particular counter(s) comes in handy. In this lesson, we'll look at using the clear counters [interface] command .

You can determine when an interface's counters were last reset by issuing the show interfaces [interface] command and looking at the Last clearing of "show interface" counters output. If that output is never, that means that the interface has not been cleared since the device last reloaded. You will need to determine the last time that your device/module/card/stackmember (depending on device/IOS version) was reloaded. Generally, you can determine this from the output of the show version command.
---
Command and Configuration References
---
Additional Resources
---
Lab link
Search Terms: Troubleshooting, clear counters, clear counters [interface], show interfaces, show version