Once again we take a look at the show interfaces output to assist with troubleshooting.  This lesson will look at the last input/output counters.  We will learn what these counters monitor as well as when we can (and cannot) use them for troubleshooting.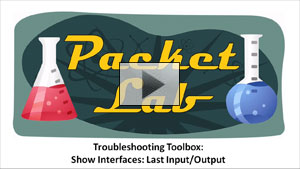 Troubleshooting Toolbox: Last Input/Output Counters
Last Updated (Saturday, 06 August 2011 21:32)
Although it may not seem to be an important tool in our troubleshooting toolbox, the ability to clear interface counters is very important. This lesson will introduce you to the clear counters [interface] command as well as show you when to use this command instead of the more comprehensive clear counters command.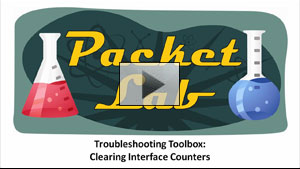 Troubleshooting Toolbox: Clearing Interface Counters
Last Updated (Saturday, 04 June 2011 19:56)
When you are performing debugs you have at least two concerns: 1) making sure the that debug does not clobber the CPU of your device, and 2) filtering the debug output to get to the information that you need for troubleshooting your issue. The debug interface command can help you with the second issue.

In many cases (especially on production equipment) you may have a lot of interfaces running the protocol that you are troubleshooting. When you enable a debugging command (like debug ip ospf hello), the output that will be returned is for all interfaces running that protocol. This can quickly overwhelm you with information and make troubleshooting more difficult/time consuming.

The debug interface command allows you to limit the debug output to a specific interface.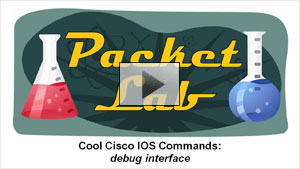 Cool Cisco IOS Commands - debug interface
Last Updated (Monday, 28 March 2011 15:30)